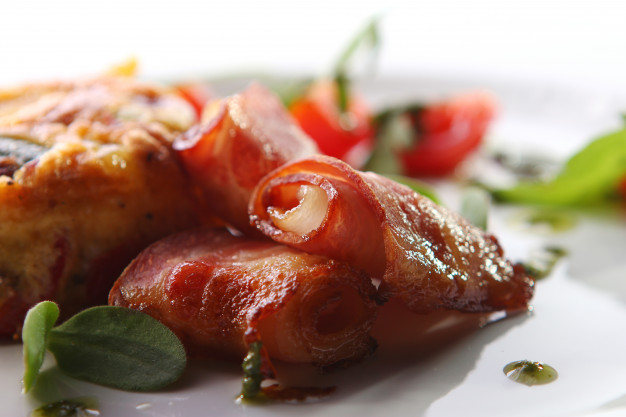 With the development of meat processing technologies and an increase in the demand for meat protein, the bacon market has experienced tremendous growth during the past decade. The upsurge in demand for pizza, sandwiches, and hamburgers has also bolstered the bacon market growth. However, bacon contains some amount of fats and sodium that increases the risk of heart diseases and blood pressure, which restricts the demand for bacon. Development in new products like turkey bacon is expected to provide lucrative opportunities to the bacon market in the upcoming years.
According to the report by The Insight Partners, The bacon market was valued at US$ 27,419.94 million in 2018 and is projected to reach US$ 40,004.62 million by 2027; it is expected to grow at a CAGR of 4.3% from 2019 to 2027. In 2018, North America held the largest share of the global bacon market, followed by Europe and Asia-Pacific.
The significant shift of the people toward convenience foods in developed countries such as the US, Canada, Mexico, Germany, France, Italy, and China, is driving the demand for bacon market globally. Bacon is extensively used by individual consumers and by foodservice providers. Bacon offers food service providers, restaurants, and other consumers a simple and easy way to offer a great variety of food options. Therefore, the increasing demand for bacon for the preparation of various recipes is projected to drive market growth.
The growth of the organic segment is primarily attributed to the fact that they are free from antibiotics and preservatives. Organic bacon is highly demanded as the consumers have a perception that it typically contains higher concentrations of nutritional compounds and thus is healthier. The pigs are fed a vegetarian and organic diet consisting of corn, alfalfa, and minerals before obtaining organic bacon from them. Mainly, organic bacon starts as a lean belly that had been trimmed by expert butchers and then smoked on applewood at low temperatures. They are uncured and free from nitrite and nitrates. Some of the brands associated with organic bacon are Applegate Organic Bacon, Organic Prairie Bacon, and Pasture Perfect Free Range Bacon.
The demand for bacon is expected to increase in North America due to factors such as increasing demand for meat protein coupled with the rapid development and growth in meat processing technology. Additionally, consumers in North America, especially in the US and Canada, have started consuming meat-based breakfast options, including bacon in dishes such as pancakes and sandwiches due to the urge of trying new products. This factor has increased the demand for bacon in North America. Additionally, fast food chains such as McDonald's and Burger King have introduced more bacon options in their menu, which in turn boosts the market growth for bacon in the North American region.
The major players operating in the global bacon market are Applegate Farms, LLC., Farmland Industries, Inc., Foster Farms, Hormel Foods Corporation, JBS S.A., Karro Food Group, Organic Prairie, Osi Group., Smithfield Foods, Inc. and True Story Foods among many others.