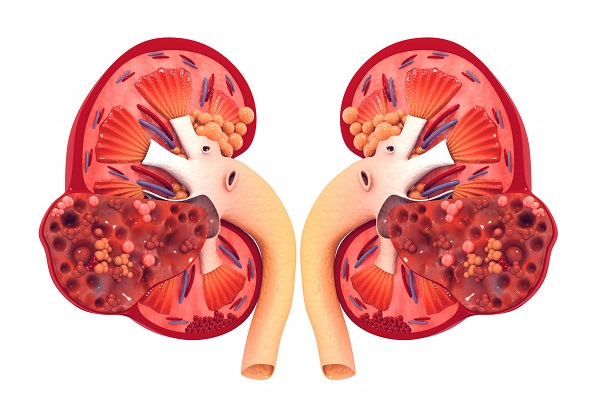 Policy-makers have to ensure that an appropriate mix of pharmaceutical policy options is implemented to meet equitable, affordable, and sustainable access to medicines as well as medical care. The World Health Organization has projected various strategies to support policy-makers in developing suitable policies, including the concept of the vital medicine list and the universal health coverage (UHC) approach. Moreover, European countries with advanced UHC and social protection systems have developed pharmaceutical pricing and reimbursement systems that intend to offer various crucial medicines to their citizens at no or reduced cost. For instance, Armenia ensures 100% reimbursement for medicines for specific diseases such as TB, mental health diseases, diabetes, and chronic kidney failure.
Based on product type, the kidney disease market is segmented into diagnosis and treatment. In 2019, the diagnosis segment accounted for the largest share of the market. Growth of this segment is attributed to increase inblood tests, urine tests, and different imaging procedures.
Request for sample @ https://www.theinsightpartners.com/sample/TIPRE00014589/
Company Profiles
Abbott
F. Hoffmann-La Roche Ltd.
AbbVie's Inc.
Pfizer Inc.
Teva Pharmaceutical Industries Ltd.
GlaxoSmithKline plc
Amgen Inc.
Sysmex Corp.
Fresenius Medical Care SE & Co. KGaA
Siemens Healthineers AG
In May 2019, VELTASSA, a prescription medication used to treat high potassium levels in the blood (hyperkalemia), has secured reimbursement in Germany, after the completion of AMNOG process (price negotiation and arbitration process). Moreover, reimbursement for the drug was secured in Finland, Austria, Portugal, Spain, Belgium, and a favorable recommendation was received from the National Institute for Health and Care Excellence in the UK. Furthermore, at the end of 2019, VELTASSA was launched in Sweden, Norway, Denmark, Belgium, Germany, Spain, The Netherlands, and Austria. Besides, in 2018, Vifor Pharma announced a licensing agreement with Zeria Pharmaceutical Co., Ltd. to catalyze the process of VELTASSA's regulatory and reimbursement approval in Japan. Further, in December 2019, China's National Healthcare Security Administration (NHSA) included Roxadustat in the updated National Reimbursement Drug List (NRDL). The drug Roxadustat is included in the NRDL for the treatment of anemia in CKD (Chronic Kidney Disease). Such lucrative reimbursement policies are likely to accelerate the growth of the market during the forecast period.
According to the estimates given by the Centers of Disease Control and Prevention (CDC) in 2020, 1 in 3 adults with diabetes and 1 in 5 adults with high blood pressure might have chronic kidney disease. In 2015, 30.3 million people in the US had diabetes as per the American Diabetes Association. According to the CDC, in 2014, around 118,000 people in the US started the treatment for end-stage renal disease, and the number of people taking this treatment is expected to increase as more people become aware of this condition. Moreover, the CDC states that around 96% of the people with kidney damage are not aware of having chronic kidney disease, which indicates the underlying market prospective in the kidney disease market. These factors are expected to enhance market growth during the forecast period.
As per the data published by National Kidney Foundation Inc., in 2020, CKD is likely to cause more deaths than prostate cancer or breast cancer. It is an under-recognized emergency health condition among people. 1 in 3 American adults (about 80 million people) is at risk due to CKD.
Additional highlights of the Kidney Disease market report:
The product offerings, company profiles, production patterns, and market remunerations are discussed at length.
Pricing model followed by every company, plus their gross margins and market share are given.
Volume predictions for each product category as well as their revenue share are graphed in the report.
Other essentials such as market share and growth rate of each product category over the forecast timeframe are included.
Market share held by each application segment and their projected growth rate during the study period are evaluated.
The report examines the competition trends, and also offers a complete analysis of the industry supply chain.
Purchase This Report at: https://www.theinsightpartners.com/buy/TIPRE00014589/
About Us:
The Insight Partners is a one stop industry research provider of actionable intelligence. We help our clients in getting solutions to their research requirements through our syndicated and consulting research services. We are a specialist in Life Science, Technology, Healthcare, Manufacturing, Automotive and Defense, Food Beverages, Chemical etc.
Contact Us:
Call: +1-646-491-9876
Email: sales@theinsightpartners.com