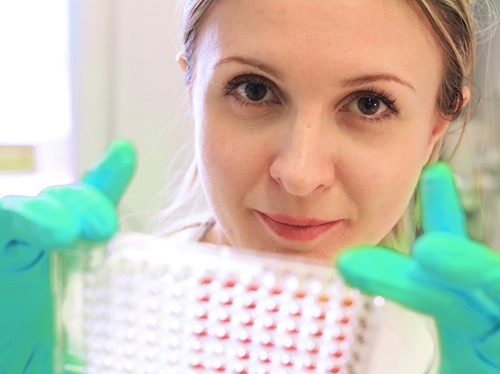 BioInvent International AB ("BioInvent"), a biotech company focused on the discovery and development of novel and first-in-class immune-modulatory antibodies for cancer immunotherapy, today presents new proof-of-concept data for two different types of monoclonal antibodies targeting tumor necrosis factor receptor 2 (TNFR2).
TNFR2 is particularly upregulated on tumor-associated regulatory T cells (Tregs) and has been shown to be important for their expansion and survival. As a part of its Treg program, BioInvent identified and characterized a wide panel of TNFR2-specific antibodies, generated from its proprietary n-CoDeR® library and unique F.I.R.S.TTM discovery tool, of which BI-1808 and BI-1910 are the lead development candidates.
In vivo studies show that both ligand-blocking and agonistic antibodies regress large established tumors and synergize with anti-PD-1 therapy. Further mode-of-action dissection demonstrate that while the ligand-blocking antibody depleted intratumoral Tregs, the agonist increased intratumoral CD8+ T effector cells. Both antibodies expanded tumor-specific CD8+ T cells and induced long-lasting T cell memory.
Main points from the presentation included:
The two different types of TNFR2 targeting antibodies are being developed by BioInvent - BI-1808 (a ligand blocker), and BI-1910 (an agonist).
BI-1808 and BI-1910 act through differential targeting of intratumoral Tregs and CD8+ T cells to regress large inflamed tumors and sensitize the host to anti-PD-1 therapy.
Treatment with both antibodies result in an increase in numbers and activation of tumor specific T cells at the tumor site.
Martin Welschof, CEO of BioInvent, says: "The proof-of-concept data presented in this poster show very exciting potential for these two TNFR2 antibodies in improving treatment for solid cancers, and are further reinforcement of the productivity of BioInvent's technology platform. This provides a foundation for further development and we look forward to investigating these antibodies in clinical trials, with BI-1808 expected to start a Phase l study in 2020."