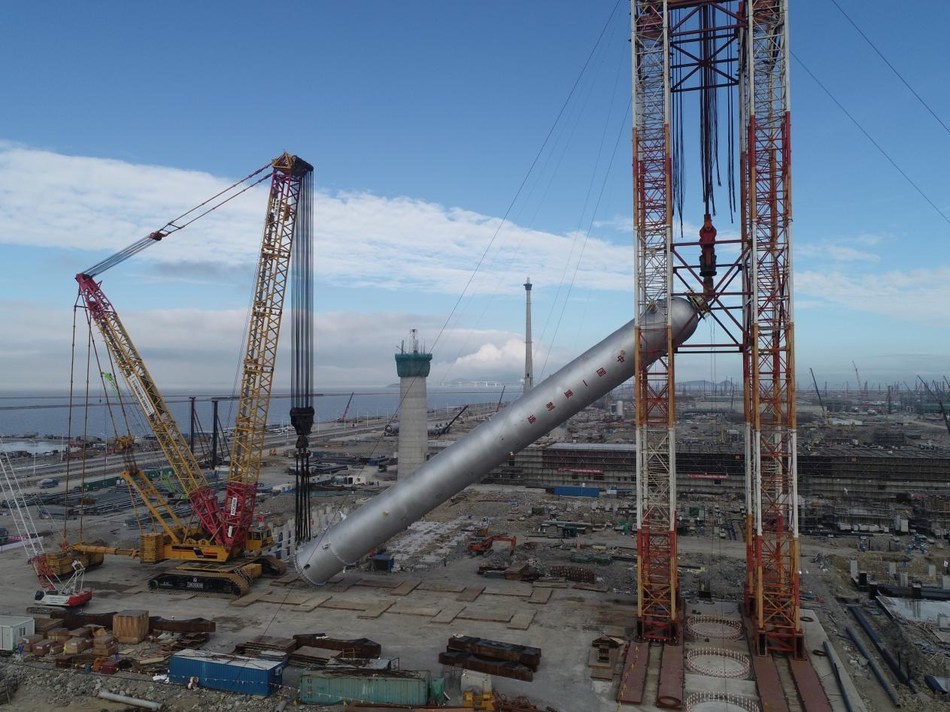 The world's single hydrogenation reactor weighs 3,025 tons, which corresponds to 17 blue whales, the largest animal on earth, and measures 72 meters vertically, as high as a 26-story building. The outside diameter of the reactor is 6,156 meters with a wall thickness of 320 mm. It is the centerpiece of Phase II of Zhejiang Petroleum & Chemical's chemical refinery integration project with a capacity of 40 million tons per year.
The record installation used a hydraulic, shiftable 5,200-ton derrick to lift the main load. A 2,000-ton XGC28000 crawler crane coordinated lifting from the other end.
The hydraulic 5,200-ton derrick has the advantage that it can lift heavy weights, move completely, and requires less assembly or disassembly in the middle tower. This solution has effectively minimized the impact on the construction site and shortened the overall construction time.
The 5,200 ton hydraulic derrick is implemented as a whole for the lifting and installation of the second hydrogenation reactor. It will be used for six other similar lifting tasks in the coming months.