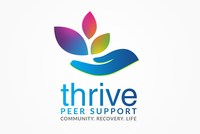 Thrive Peer Support (TPS), a provider of one-on-one peer counseling for substance use recovery and mental health treatment, has introduced its new state-of-the-art telehealth platform in response to Covid-19 social distancing to serve Medicaid-eligible individuals to reduce the risk of relapse during the current stressful climate. Demand for access to telehealth peer counseling is also creating jobs for peer counselors displaced by agency shutdowns as a result of the pandemic. Thrive plans to increase its certified peer supporters by a minimum of 50% to meet the growing need for peer counseling support as a result of the pandemic.
Addiction and relapse tend to increase with stress and isolation. In response to this, TPS swiftly pivoted from face-to-face peer support to create an unparalleled telehealth platform thus ensuring seamless continuity of care for its clients and helping reduce the risk of relapse. Clients communicate with Peer Supporters via telephone or secure video conferencing, providing the connection that is so vital for successful recovery. Thrive is one of very few agencies in the state of Ohio providing peer support via telehealth service to the Medicaid population.
"Those in recovery are really struggling right now because of Covid-19-induced social distancing – and some are relapsing," stated Cale Burke, Area Relationship Coordinator - Central Ohio/Advocacy Manager for TPS Columbus. "Our new telehealth service provides peer connections that help prevent relapse and save lives. We're hiring as many displaced coaches as possible to help aid with the influx of new recovery clients."