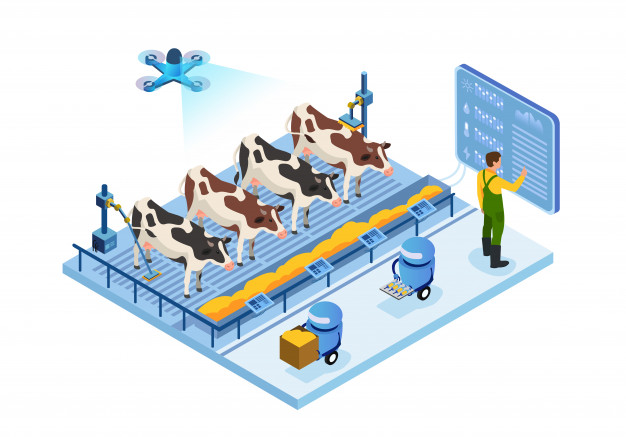 Global milk production has augmented by an average of 2 percent on a yearly basis in 25 years and is expected to rise by more than 10 times in upcoming years. On the other hand, the dairy farming industry is left with a hand full of farmers actually practicing it, as others have preferred moving to other money-making businesses. And thus the growing demand for milk in coming will have to be met by these few farmers left in rural areas.
Hence, it is high time that the traditional dairy farming techniques are being replaced by modern and innovative technologies. In other words, farmers are required to convert their dairy farms to smart dairy farms.
Here are a few technologies that will enable farmers to fuel their farming techniques with these smart types of equipment:
Robotic Technology for milking cows: Robotic equipment for milking cows is the only well-known technology fueling smart dairy farming. This technology not milks the cows but can also feed, massage and wash them.
Prior to this technology being invented, milking cows was not only difficult but also a time-consuming process. But now with robotics dairy farmers are not only able to milk multiple cows at a time but also are able to maintain sanitization and cleanliness. Hence, reducing a lot of time and labor of farmers.
Drones for aerial monitoring: Alike several other industries drones have now taken their space in the dairy farming industry as well. With the help of drones, farmers can at every time keep a close view over their land as well as cows grazing with aerial monitoring. This enables them to respond immediately a time of emergencies and probably save their animal or crop from damaging.
ID Collar for Cows Health: This is a breakthrough wearable technology for tracking cow's health. The ID collar frequently sends critical data related to cow's health to the farmers like milk production levels, frequency or even eating habits of cow. The data derived from the collar through the transponder lets farmers to detect the health of the cow or herd. The ID collar can be worn by the cow or herd over their ears, legs, neck or tail.
3D printing for replacing multitude of applications: One of the basic applications of 3D printing is it replacing the heavily expensive machine parts saving a lot of money of the rural farmers.