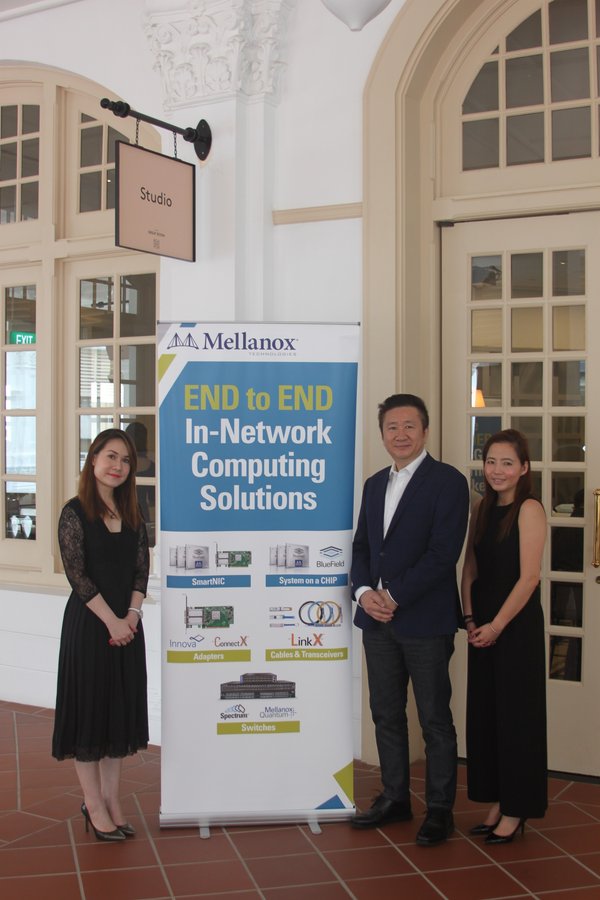 Mellanox Technologies (NASDAQ: MLNX), a supplier of end-to-end Ethernet and InfiniBand intelligent interconnect solutions and services for servers, storage, and hyper-converged infrastructure, introduced the "What Just Happened" series of educational workshops in Singapore to help network administrators and managers identify and address network or application performance issues before they impact end users. The first of such workshops, which was held on January 7, 2020 at Raffles Hotel in collaboration with VST ECS, Mellanox's appointed value-added distributor for Singapore, was attended by delegates from multiple industry sectors.
Mellanox's intelligent interconnect solutions increase data center efficiency by providing the highest throughput, lowest latency and In-Network Computing technology, delivering data faster to applications, unlocking system performance, and improving security. Mellanox offers a comprehensive choice of high-performance solutions, ranging from IPUs (I/O Processing Units) , network adapters, switches, cables, software and silicon, that accelerate application runtime and maximize business results for multiple markets -- including high performance computing (HPC), enterprise data centers, cloud, storage, cyber security, telco and financial services.
What Just Happened (WJH) is an advanced streaming telemetry technology that provides real time visibility into network related issues. When the network is down or slow, traditional solutions try to extrapolate root causes of network issues by analyzing network counters and statistical packet sampling. The Mellanox WJH solution leverages the unique hardware capabilities built into the Mellanox Spectrum™ series of Ethernet switch ASICs to inspect packets at multi-terabit speeds, to quickly diagnose and repair datacenter network issues including configuration or application software problems, and saves hours of onsite technical support services for troubleshooting, maintenance and repair of computer software.
Besides training delegates on spotting network or application performance issues, the workshop also examines and shares modern data center trends and lessons learnt from customer use cases, the use of telemetry in achieving next-generation network automation, Mellanox's leadership in SmartNIC (NIC: network interface card), which offloads processing tasks from the CPU thereby increasing application performance and efficiency. Further, the workshop provides a comprehensive overview of state-of-the-art network architecture design.
"We are excited to bring the "What Just Happened" series of educational workshops to Singapore at the start of the new year, following the success we had in other regional markets," said Charlie Foo, vice president and general manager for Asia Pacific at Mellanox. "The advent of new innovations such as 5G, automation, machine learning and artificial intelligence (AI) will undoubtedly pose increasing challenges on network design and cloud efficiency. We are looking forward to working closely with our customers in Singapore to help them take advantage of next-generation digital technologies, sharpen their competitive advantage, and unlock new opportunities with their customers."