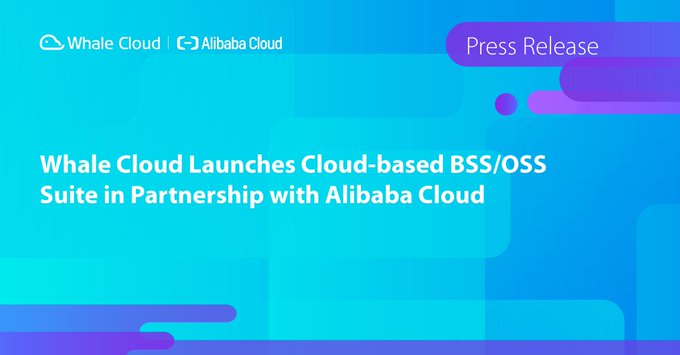 Whale Cloud announced the launch of its suite of cloud-based telecom solutions today: ZSmart Digital Business Enablement Platform (D-BEP) and Digital Transformation Service Kit : Digital Telco Maturity Map (DTMM), Standard Operating Process (SOP) and Digitalization Metrics , as well as a number of Alibaba Cloud zero-provision telecom offerings, the backbone of Alibaba Group's data intelligence. This suite enables Communications Service Providers (PSCs) to assess digital maturity, gain access to the subscription-based telecom solution, and collaborate with ecosystem partners on a single platform.
Telecom IT applications play a vital role in digital transformation. Becoming a Digital Service Provider (PSD) requires agile and scalable Operations Assistance Systems (OSS) and Enterprise Assistance Systems (BSS) based on cloud-originated architecture. Alibaba Cloud is now used by the Whale Cloud to offer PSCs a comprehensive suite of ZSmart Digital BSS, Digital OSS and Data Intelligence solutions, to facilitate business agility with a scalable infrastructure for faster merchandising, minimizing costs with a subscription model and allowing PSCs to prioritize business activities over regular infrastructure maintenance and operation.
"Moving our telecommunications solution to the cloud is the future. It enables PSCs to take a big step towards the digital business model and offer a set of tools for how the technology company works," said Ben Zhou , CEO of Whale Cloud International. "By working closely with Alibaba Cloud , we provide PSCs with cloud-based subscription-based solutions and services aligned with market needs."
"Combining the technical progress of Alibaba Cloud and the experience of the Whale Cloud industry, we are confident in the value we can offer to the global telecommunications industry; making it easier for companies to transform digitally and creating more business advantages for our customers in any part, "said Selina Yuan , CEO of International Business, Alibaba Cloud Intelligence.
The ZSmart D-BEP is a complete suite of telecom solutions for PSC's digital transformation that addresses business innovation, network operation, data intelligence with container-based and cloud-originated architecture for rapid commercialization, and streamlined innovation.