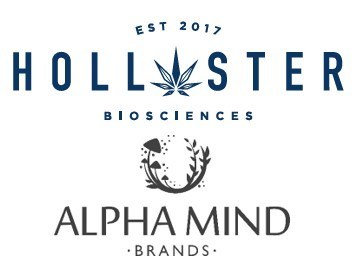 Hollister Biosciences Inc. – a diversified cannabis branding company with products in 220 dispensaries throughout California, is pleased to announce that the Company has entered into a letter of intent (the "LOI") on March 9th, 2020 to acquire Alphamind Brands ( "Alphamind"), a company developing legal mushroom based natural health products and conducting R&D in conjunction with accredited universities to develop psilocybin based compounds for drug development.
The all stock purchase price is anticipated to be CDN$ 1,200,000 with such payment to be made in Hollister common stock. The stock price will be determined based on the greater of the 14-day VWAP (Volume Weighted Average Price) subsequent to announcing the transaction and $0.20. The acquisition is subject to normal course due diligence.
"We are very pleased to have entered into an LOI to complete this very exciting acquisition", shared Carl Saling, Founder and CEO of Hollister Biosciences Inc. "It is a fundamental value of our company to improve the overall health and performance of our customers through our high-quality products and the health benefits associated with medicinal mushrooms are tremendous. Not to mention, it is our continual objective to broaden our product scope and Alphamind, with its experienced management team, is a perfect foothold for us in the fast-growing market for medicinal mushrooms and complements our existing cannabis and hemp-based product offering."
"I think we have found a great partner in Hollister", shared Robert Birmingham, CEO of Alphamind Brands. "We have medicinal mushroom based product SKU's ready to ship and R&D is underway to develop an exciting IP portfolio surrounding psilocybin based pharmaceutical treatments. Being under the Hollister umbrella will allow us to access additional markets and leverage their existing manufacturing and distribution infrastructure and will be a fundamental part of the future growth of our business."
In association with the arm's length transaction, Hollister will not be assuming any long-term debt and there is no change in Management, or the Board of Directors of Hollister being contemplated at this time.