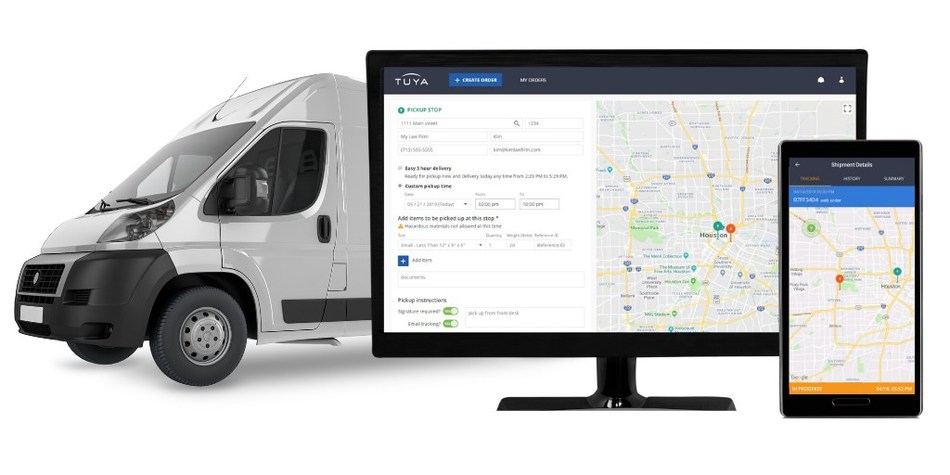 TUYA Technologies (TUYA), the Houston-based tech company that is transforming the outdated B2B, same-day delivery industry, announces its launch in Texas' major markets – Houston, San Antonio, and Dallas. Led by veteran entrepreneur and CEO, John Oren, TUYA's technology marketplace platform strips away the inefficiencies from the same-day delivery process while simultaneously improving control and visibility—simplifying the shipping and delivery experience for drivers and the companies they serve.
"Having spent decades in the industry, I've learned that same-day delivery is here to stay and is needed now more than ever. Many of today's same-day delivery models can be compared to taxis before technology. Before, you would have to call and request your service with no visibility or transparency between you, your delivery, and your driver. TUYA's disruptive platform makes current an industry that has been stuck in the past; making the process simple, easy and direct, while providing great value for both businesses and delivery professionals," said Oren.
In September 2019, TUYA closed a $16.9 million Series C funding round. Since its inception, TUYA's founders have invested $12.5 million of their own capital and have raised an additional $20 million.
Oren started acquiring local delivery companies to seed the platform, including Houston-based Hot Shot Delivery and Prime Delivery Services; San Antonio-based Dependable Express; and Dallas-based Meteor Logistics Xpress. The acquired companies brought a strong foundation of high-quality delivery professionals rooted in providing excellent customer service. Some early adopters of TUYA include national Houston-based retailer Francesca's and construction equipment dealer Bobcat of Houston.
TUYA has partnered with businesses across various industries to provide same-day delivery services for them and their customers through the TUYA platform. TUYA's diverse portfolio includes retailers, supply companies, wholesale distributors, dealerships, pharmacies, and professional services companies.
TUYA provides its customers with analytics showing their cost advantage using the marketplace platform; percentage data to show improvements on their service levels; and a toolset that provides ease of access to orders, their status and their proof of delivery history.