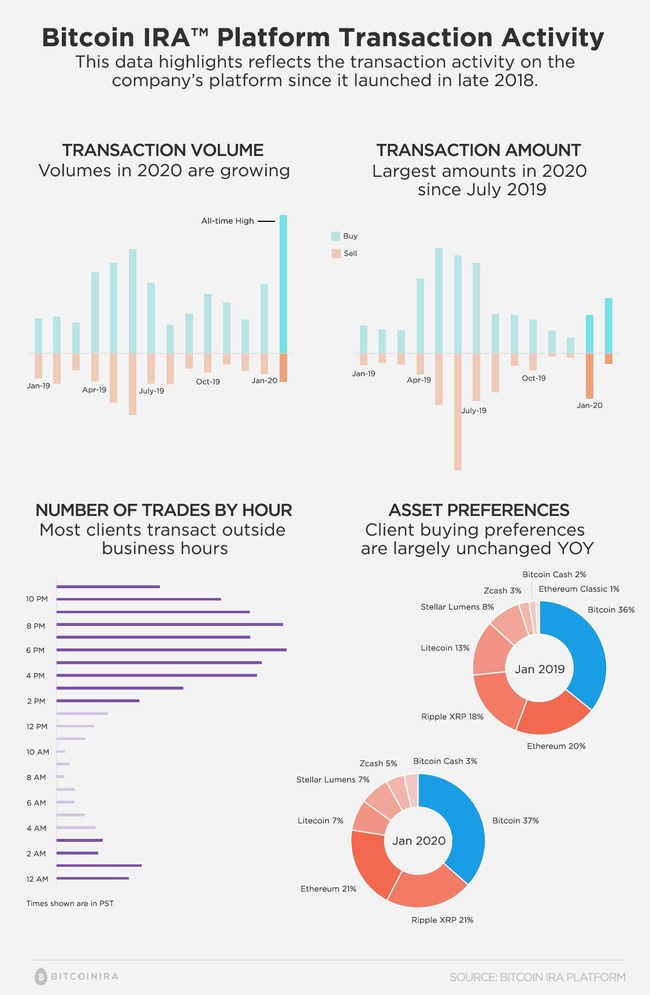 Bitcoin IRA, a secure digital asset IRA technology platform that allows clients to purchase cryptocurrencies and other digital assets for their retirement accounts, today released activity trends on its 24/7 self-trading IRA platform.
Since 2016, Bitcoin IRA has processed over $400 million in cryptocurrency transactions, opened more than 50,000 consumer accounts and performed thousands of individual trades for its clients. In December 2018 the company launched its proprietary real-time online trading platform for self-directed IRAs, enabling its clients to buy, sell, and swap cryptocurrencies directly inside their retirement accounts 24 hours a day, 7 days a week.
The data highlighted in this release reflects the transaction activity on the company's platform since it launched in late 2018.
Key takeaways:
Total transaction volumes reached all-time highs on Bitcoin IRA's 24/7 self-trading platform in February 2020.
85% of all crypto transactions in February 2020 were purchases, despite high volatility in global investment markets with concerns over the coronavirus epidemic.
Transaction volumes were high relative to transaction amounts in 2020 suggesting a greater number of individuals are interested in investing in cryptocurrencies but starting with smaller amounts. This data is also reflective of the company lowering its investment minimums in February 2020 to $500 per cryptocurrency.
Demand for Ripple XRP still remains high as an IRA investment in 2020. Consumers seem to have a strong belief in the long-term potential in the company and its digital currency.
Time-of-day data highlights that users most often make transactions outside work hours, or once traditional wall street stock markets have closed since crypto markets are open 24 hours a day, 365 days a year.
Methodology
Data used for this report represents thousands of transactions made exclusively on the Bitcoin IRA 24/7 self-trading platform since launching in December 2018. A transaction is any single cryptocurrency that was purchased or liquidated on the Bitcoin IRA platform. For the purposes of this report, swaps were counted as two transactions, a purchase and a liquidation, and each cryptocurrency was counted as a separate transaction for orders with multiple cryptocurrencies in a single order. Actual transaction amounts and volumes were excluded from this report for consumer privacy.
In addition to this report, earlier this year the company announced reaching a milestone of $400 million in cryptocurrency transactions and enabling its self-directed clients to generate an average net return of 11.6%.
Chris Kline, COO, Bitcoin IRA said:
"This data represents our hard work and dedication in providing a secure, accurate, and high-quality platform for our clients that enables them to capitalize on the incredible growth of cryptocurrencies. Transaction volumes recently reached all-times highs and we expect that trend to continue through 2020 as the market matures and consumer adoption increases."