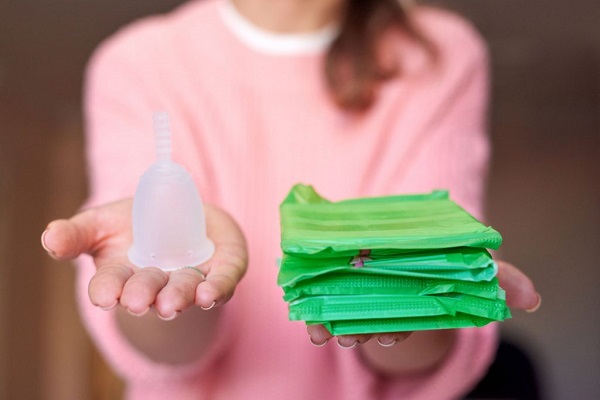 The number of Google searches for menstrual cups has increased in recent years. To represent the number of searches, Google Trends search gives a number out of 100. The "menstrual cup" had a popularity score of 21 in 2013 and 83 in 2018, then it has reached to 100 in September 2019.
Menstruation is still considered as a taboo in many countries across the world and hence is a big hurdle in the management of menstrual hygiene. In rural areas of developing countries, women are not aware of menstruation and thus face many challenges and difficulties at home, schools, and workplaces. Women are less aware of the infections caused due to poor menstrual hygiene. An excessively damp pad can cause urinary tract and vaginal infections. Sanitary napkins also cause a rash, which further leads to itching, swelling, and redness. Using unclean pads can lead to fungal infections. Using a pad for a long time can cause vaginal yeast infections and rashes.
If tampons are inserted for an extended period, it causes toxic shock syndrome, due to which the bacteria infiltrate the body, which further leads to severe infection. Tampons cause Toxic Shock Syndrome, which is caused due to overgrowth of bacteria called Staphylococcus aureus or staph that release poisonous substances into the body. Some women forget tampons inside, which can be disastrous.
Download PDF Brochure of Study Here
Menstruation is a crucial part of women's life, and unfortunately, some women hesitate to discuss it. But with government initiatives and support, the situation is changing now and it has become easier for all to talk about all things related to menstruation. For instance, last year, the Alappuzha Municipality in India, distributed 3,000 free menstrual cups so that women can opt for an environment-friendly product for menstruation.
With growing demand for reusable products, women prefer to use menstrual cups as these are reusable and can be used for about 10 years. Plus, these are inexpensive, safe and there is less possibility of leakage as compared to other products such as menstrual pads and tampons. Social media platforms like Facebook, twitter, and Instagram are also promoting the adoption of menstrual cups. And because of these reasons, menstrual cups are gaining popularity. Owing to these benefits and popularity, local big-chain stores such as Walmart and Target, pharmacies and some online stores started to offer these cups.
As per the report by The Insight Partners, The Menstrual Cup market is predicted to reach at US$ 636.16 Million in 2027 with a CAGR of 5.9% from 2019—2027. Many companies like Diva International Inc., Lunette Menstrual Cup, The Keeper Inc., Mooncup Ltd., Anigan Inc. etc. are already in market. Plus, many manufacturers have started investing in the business and these are continuously coming with improved products.
Last week, BBC—in its publication—stated that the menstrual cup's misuse may cause pelvic organ prolapse. Plus, recently the Chartered Society of Physiotherapy revealed that menstrual cups are not regulated in the UK and its safety is also not tested. These news are creating confusion among the customers regarding the continuation of using this option.
But experts clarify these doubt that if one follows the instructions provided with the product or use is after proper clarification of all doubts, then the use of cups may not hurt the organ.
The menstrual cup market is expected to gain substantial growth opportunities from the growing adoption of advanced lifestyle in women and developing urbanization. Also, the female labor force participation is highest in some developed and developing countries worldwide. The increase in the percentage of working women upsurge the sales of feminine hygiene products at a significant rate. This number is significantly increasing in developed and developing nations such as, in 2016, in the US, women's participation in labor economics has doubled from 34% of working-age women in 1950 to ~57%. Moreover, most of the American women manage their periods with a combination of disposable pads and tampons, while a combined 2 to 3% opt for reusable products. According to the Bureau of Labor Statistics (2020), women held approx. 50.04% of American jobs as of December, excluding self-employed and farmworkers.